THE CUDDLERS
BY STACY TOWLE MORGAN $12.95
Add to Cart
A classic published by La Leche League, this is a straightforward story about a family with four children who, after a normal day of playing outside together in their suburban neighborhood, settle into their own beds for a good night's sleep. One by one they shuffle their way into their parents' bed until all four have filled this overflowing nest. They wake up together happy, all their night time fears washed away, ready to start a new day as a close family. [hardcover]


A TEENY TINY BABY
BY AMY SCHWARTZ, $15.95
Add to Cart
A baby describes the many activities he enjoys, both at home and out in the busy city. This first person view (actually "first baby" view since the baby is the narrator) of the world (and Brooklyn Heights in particular) is hysterically funny. Among the things this tiny baby enjoys is a ride on daddy in his sling and a late night tour of his apartment. Each illustration of his parents subtly shows that perpetual state of new parent exhaustion to which all parents can relate. The nursing drawings go on for three pages as the baby says "I like to eat when the sun hasn't quite risen yet and then again when I decide to really get up and then a little later and then in the afternoon. . ." - well you get the idea. There is one shot of daddy feeding baby a bottle but I choose to assume that it is pumped breastmilk. Finally the baby describes all the places he likes to sleep - and there are many-but he does not like his cradle and he does like to sleep between mom and dad. The family bed illustration is a classic - baby bed-hogging while each parent is curled up on either edge. This is a fun children's book with humor to be found on every page for the adult who has been there. [hardcover]


WE HAVE A BABY
BY CATHRYN FALWELL, $15.00
Add to Cart
The arrival of a new baby is cause for celebration, presenting opportunities to love, watch, touch, and care for the new family member. This colorfully illustrated book has simple one sentence text describing each loving act in which an older sibling can participate. Feeding shows the baby being nursed while mom has her arm around the older sibling who is drinking from a sippy cup. The closing illustration has both children sleeping together. A good introduction for a young new sibling or an early reader. [hardcover]
Only the Cat Saw
by Ashley Wolff $5.95
Add to Cart
As Amy and her family get ready to settle down for the night, the catgets ready to explore and see many things. A cat's eye view of the world and afamily's house at night. One of the things the cat sees is some late night nursing.A Chinaberry Classic selection. [paperback]

A Ride on Mother's Back: A Day of BabyCarrying Around the World
by Emery and Durga Bernhard $15.00
Add to Cart
This book explores the ways in which people from various cultures carrytheir young ones, and describes what children see and learn as they are carried.This is a beautifully illustrated book which includes several different attachmentparenting concepts. First, the baby wearing, of course. But also the babycarrying is done by various members of the family as the child is considered theresponsibility of the community. The child is also nursed during the normal courseof being included in the activities of mommy's day. [hardcover]
Books without the "Add to Cart" link have not been processed but are available for purchase. Send us an email and we will quickly process the book into our shopping cart system.

HAPPY BIRTH DAY!
BY ROBIE H. HARRIS AND MICHAEL EMBERLEY $16.99
A mother tells her child about its first day of life from the moment ofbirth through the end of the birth day. Soft and lush illustrations bring familiarfeelings back to any parent. A beautiful two page spread of the baby's firstlatching on is accompanied by the words: "You made such sweet smacking sounds! Daddy said you sound like a baby goat." The closing page has mommy, daddy andbaby asleep together snuggled in a hospital bed (family bed is everywhere!).Children will want to read this one over and over. Now we need a version of thisbook with a home birth and/or a midwife delivery! [hardcover]

WILL THERE BE A LAP FOR ME?
BY DOROTHY COREY AND NANCY POYDAR $4.95
Kyle misses his time on Mother's lap while she is pregnant and is happywhen the birth of his baby brother makes her lap available again. But he finds thatboth mom and her lap are too busy with the new baby to spend much time with Kyle. Children will really relate to the mother's attempt to include the older child in thenursing time by all three cuddling together. Kyle is both intrigued by the softnessof the baby and sad that, "Baby Matt was hungry all the time!" Finally,Kyle and Mother find new ways of having time alone together. [paperback]

WE LIKE TO NURSE
BY CHIA MARTIN AND SHUKYO LIN RAINEY $9.95
An exquisitely illustrated book. Each page shows how a differentanimal nurses: "Newborn puppies push against mommy's nipples to help the milk comeout." The last page shows the human pair with the simple caption: "We liketo nurse." Clear, colorful illustrations and simple language make this a greatbook for young nurslings and early readers. [paperback]

OH, BABY
BY HOLLY ANNE SHELOWITZ AND SARA BONNETT STEIN $5.95
Sharp photography and simple text describe all the things a baby can do. This includes showing how a stroke on the cheek elicits a sucking response,followed by a page with a nursing pair captioned: "No one has to teach them how todrink!" Large photographs of babies make this a fun book for babies and veryyoung children. [paperback]

A TEENY TINY BABY

WELCOME, LITTLE BABY
BY ALIKI $16.00
Award-winning author and illustrator Aliki does it again with this taleof a mother welcoming her newborn and telling the child what life will be like as it growsolder. Beautifully illustrated, this is a sweet poetic look at a mother introducingher newborn to the world, partly while nursing. [hardcover]

WELCOMING BABIES
BY MARGY BURNS KNIGHT AND ANNE SIBLEY O'BRIEN $14.95
This book is a great exploration of diversity and multiculturaltraditions surrounding the introduction of babies into a family and community. Eachpage tells of a different ethnic or religious practice connected with the birth of a babyand the inclusion of the child into its culture. From singing in Nigeria to feastingand the lighting of candles in Guatemala to the planting of a new tree in Maine, this ismost definitely a children's book but also contains endnotes with more detailedinformation concerning the practices shown in the book. A good book to help a childunderstand how special new people are to a community and how different cultures maintainways of celebrating their arrival. [hardcover]

BABY WHALES DRINK MILK
BY BARBARA JUSTER ESBENSEN AND LAMBERT DAVIS $4.95
This science book for the 3 to 6 year old crowd describes the behaviorof the humpback whale with an emphasis on the fact that it is a mammal and shares thecharacteristics of other mammals; i.e., it drinks its mother's milk. Illustrationsinclude not only how humpback whales nurse but also the nursing behavior of other animals. [paperback]

ONE ROUND MOON AND A STAR FOR ME
BY INGRID MENNEN AND NIKI DALY $15.95
A young boy of rural Lesotho needs reassurance that his father is still hispapa too when a new baby is born into the family. This book incorporates thewelcoming rituals of a culture [see Welcoming Babies] into the experience of anolder sibling's adjustment. In this story, a young boy watches the community bringgifts and perform ceremonies to welcome his new brother, including one in which his fatheridentifies the new baby as his son. This makes the older child worry that he is nolonger his father's son. The father then explains how he can be the father to twoand love both. One of the few books I've seen where it is the father who reassuresthe older sibling that his place in the family is secure. [hardcover]

BAD BABY BROTHER
BY MARTHA WESTON $14.95
Four year old Tessa is impatient with her new baby brother William. She keeps trying to get him involved in her play activities but he won't join in. This fun tale of adjustment includes the all too familiar scene of Tessa shoving adoll in William's face while he nurses - the reprimand from mommy just more proof thatWilliam's entry into the family is not a good thing. But when Tessa and mommy dosome big kid things alone together, and Tessa finds ways of making William laugh, she isconvinced he might not be too bad after all.[hardcover]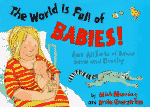 THE WORLD IS FULL OF BABIES!: HOW ALL SORTSOF BABIES GROW AND DEVELOP
BY MICK MANNING AND BRITA GRANSTROM $14.95
This book is one of my favorites and is written and illustrated by oneof my favorite teams. It is almost a science book (and the pair often do sciencebooks) about all the different kind of babies grow and develop. Humans are in withthe other mammals and the information about birth, nursing, and physical growth ispresented in a humorous, eye-catching way. Lots of fun and full of fascinatinginformation about the animal world of which we are a part. [hardcover]
I LOVE MY MOMMY BECAUSE . . .
BY LAUREL PORTER-GAYLORD $7.99
Familiar phrases from a preschooler's world give a child's eye view ofbeing an animal baby. Many different animal mothers are shown caring for theiryoung. The pairs include a human mother for "because she reads mestories," and and a nursing sheep and lamb for "[because] [s]he feeds me whenI'm hungry." A sweet presentation of mommies and babies as mutually dependentpairs. [hardcover]

CONTEMPLATING YOUR BELLYBUTTON
BY JUN NANAO and TOMOKO HASEGAWA, AMANDA MEYER (TRANSLATOR)
$11.95
Originally published in Japan, and part of the series with EverybodyPoops and The Gas We Pass, this very amusing book shows how bellybuttons cometo be. A clear explanation of the umbilical cord and life in the womb is shown inwonderful illustrations and lead to some post-birth nursing. The book also containsa good explanation of fetal development that is accurate and told without embarrassment. [hardcover]
THE NEW BABY
BY FRED ROGERS AND JIM JUDKIS $5.95
Mr. Rogers, of public television fame, explains the needs of toddlersfaced with a new baby in the family, and some of the changes and disruptions the baby cancause in the life of an older brother or sister. The familiarity of Mr. Rogers iscomforting to a young one and the questions and suggestions are all illustrated with clearphotographs. Breastfeeding and a father bottlefeeding are shown side by side withthe caption "Babies often get hungry. . . How is your little brother or sisterfed?" Hard liners like me might not be crazy about the implied equality of thetwo forms of feeding but this can be a good gift for your less radical friends. [paperback]
HONEY PAW AND LIGHTFOOT
BY JONATHAN LONDON AND JON VAN ZYLE $14.95
After giving birth in her winter den, Honey Paw, a brown bear, cares forher cub and teaches him to survive in the wild. Many stops are made along the way tostop and nurse. Illustrated with prints of paintings, this is a beautiful andrealistic tale of mother/cub relating in the wild. [hardcover]
I AM A LITTLE KANGAROO
BY FRANCOIS CROZAT $9.95
I AM A LITTLE HEDGEHOG
BY FRANCOIS CROZAT $8.95
I AM A LITTLE GIRAFFE
BY FRANCOIS CROZAT $8.95
I AM A LITTLE PIG
BY FRANCOIS CROZAT $9.95
I AM A LITTLE WHALE
BY FRANCOIS CROZAT $8.95
THE FIRST FAMILY
BY MICHAEL TWINN AND ANNIE KUBLER $11.99
OUR NEW BABY - MY BABY SISTER
BY FRANK ENDERSBY $5.00
This wordless accordion style book is currently out of print soget it while you can. It is available until my supply runs out.
Sweet illustrations guide the "reader" through all theactivities a big brother will share with his new baby sister, including cuddling up withmom while the new baby nurses. [hardcover]
A BABY JUST LIKE ME
BY SUSAN WINTER $13.95
Martha is very excited about the impending birth of her new baby sisteruntil she discovers that babies don't really do much. She learns that dull babies cangrow into fun friends. [hardcover]
THE NEW BABY
BY ANNE CIVARDI $4.50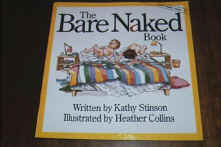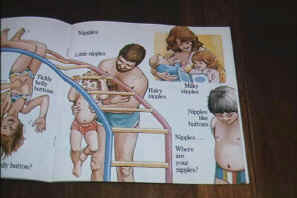 BARE NAKED BOOK
BY KATHY STINSON $5.95
This is a wonderful book about how the different part of the body lookon different people. The above illustration is the page on nipples in which one example is"milky nipples." [paperback]
OVER THE GREEN HILLS
BY RACHEL ISADORA $16.00
This is a beautifully illustrated tale of a day in the life of a youngboy in Lesotho. He is going on a long walk with his mother and baby sister fromtheir village to visit his grandmother in a neighboring (but distant) village. Thedetails of his life are shown through the people he meets along the way, where they stopfor a drink and some food (and breaks so that his baby sister being carried by his motherin a wrap can have a nurse), and finally arriving at his grandmother's village to find hemay have missed her since she had a day of visiting another village in mind. This isa wonderful introduction for a western child who may not yet have conceived of a trip tograndma's that did not begin with a phone call to make sure she was home and did notinvolve a car. And yet, the reunion of grandmother and grandchild is as familiar inits tenderness as any could be. Rachel Isadora is a favorite author and illustratorof mine but I have been sorely disappointed in a few baby board books she has done thatinclude baby bottles rather than nursing. Here she is true to her talents. [hardcover]
NEW BABY CALF
BY EDITH N. CHASE $4.99
THE BABY'S CATALOGUE
BY JANET AND ALLAN AHLBERG $5.95
THE BABY
BY MONICA GREENFIELD AND JAN SPIVEY GILCHRIST $5.95
A simple book about the things babies do. A rare breastfeeding imagewith an African-American family. The last page has baby being bottle fed in a man'sarms - let's just assume it is daddy and pumped breastmilk. [board book]
THAT NEW BABY: AN OPEN FAMILY BOOK FORPARENTS AND CHILDREN TOGETHER
BY SARA BONNETT STEIN AND DICK FRANK $8.95
THE SAME BUT DIFFERENT
BY TESSA DAHL AND ARTHUR ROBINS $3.99
A wonderful and comical illustration of all the ways man and women, boysand girls, are different and how they are the same. [paperback]
BIG LIKE ME
BY ANNA GROSSNICKLE HINES $16.00
MOMMY BREASTFEEDS OUR BABY
BY TERESA P. CARROLL $4.95
A clear, age appropriate explanation of how breasts make milk and why itis the best food for babies. [paperback]
SEE HOW YOU GROW: A LIFT THE FLAP BOOK
By Dr. Patricia Pearse, Edwina Riddell $14.95
This book allows a child to do what I always want to do when I ampregnant - open up the growing belly throughout the pregnancy and take a good look at whatthe fetus is like at different stages. Definitely a page turner. [hardcover]
HOW YOU WERE BORN
By Joanna Cole $4.95
A Reading Rainbow Book. [paperback]
THE NEW BABY AT YOUR HOUSE (revised edition 1998)
By Joanna Cole $16.00
[hardcover]
DAISY IS A MOMMY
By Lisa Kopper $11.99
A realistic yet sweetly illustrated story of a family pet giving birthand caring for her new puppies. [hardcover]
THE GRIZZLY BEAR FAMILY BOOK
By Michio Hoshino (trans. Karen Colligan-Taylor) $8.95
[paperback]
THE CHIMPANZEE FAMILY BOOK
By Jane Goodall $8.95
[paperback]
THE WILD HORSE FAMILY BOOK
By Sybille Kalas $8.95
PUPPIES, DOGS, AND BLUE NORTHERS: REFLECTIONS ON BEINGRAISED BY A PACK OF SLED DOGS
by Gary Paulsen $15.00
Credit goes to Jody McLaughlin of The Compleat Mother magazinefor suggesting this young adult book. In it Paulsen recounts the final days of hisfavorite Iditorod sled dog, but the opening sequence is the story of the last litter ofhis dear friend. It is an unusual story of how an experienced canine mother tries to useher milk to heal her sick pup. A young adult chapter book for ages 10 and up. [hardcover]
A CHILD'S FIRST BOOK OF LULLABIES WITH CASSETTE
Dorling Kindersley with paintings by Mary Cassatt $17.95
Beautiful mother and child paintings accompany this book with scores oflullabies all also on the accompanying cassette tape.
[hardcover]
MAGGIE'S WEANING
By Mary Joan Deutschbein $6.95
A very sensitive look at one child's experience of self-weaning.[paperback]
THE RAINBABIES
By Laura Kraus Melmed, Jim Lemarche $16.00
A childless but happy couple happen on these tiny beings and adopt themas their own. An adventure story plus a reassuring tale of parental devotion. [hardcover]