| | |
| --- | --- |
| | Hide and Seek Referral Program |
Thanks for checking out our referral program. We hope you find it to be generous and convenient! At the present time, this offer is only open to residents of the State of Hawaii.
For every person that you refer to us and who makes a purchase at our store, you will earn a 10% off certificate.
For every person that you refer to us and who decides to consign items with us, you will earn 5% off for every 5 garments that they consign, up to a total of 20% off.
There are even more bonuses available if your friend provides brand-name clothing that is in excellent condition. This could increase your savings to 30%. You might also tell your friend that all consignment clients receive a 10% off certificate themselves!
To take advantage of this offer, please print out the form below and fill in the section below the line. If you would like to print out the form without all the text on this page, place your cursor over it and right-click in most Windows browsers and select 'View this Image'. You can then print from the new view. If you cannot view the image then follow this link.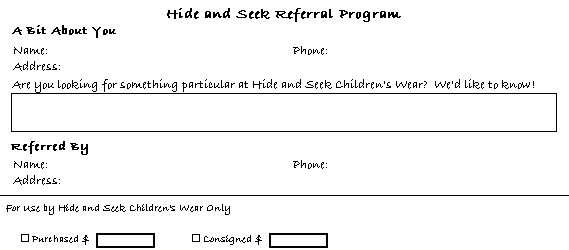 [ Home ] [ About Us ] [ Contact Us ]
[ Books and Gifts ] [ Nursing Accessories ] [ Apparel ] [ Links ]